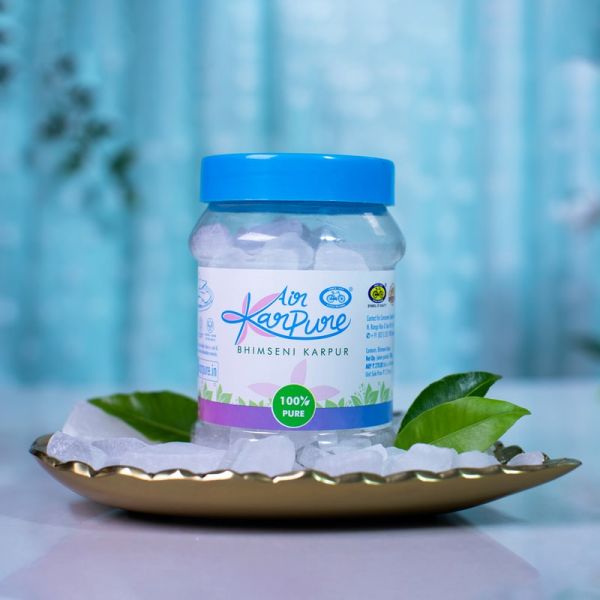 General
Pack Contents
100% Pure Camphor
Manufacturer Name & Address: N. Ranga Rao & Sons Pvt. Ltd, #1553, Vanivilasa Road, Mysuru - 570 004, Karnataka, India.
Country of Origin: India
Karpure Bhimseni Karpur
MRP (Inclusive of all Taxes):

Rs

140.00
Ex Tax:

Rs

140.00
Available Options
Free Shipping on Orders Above

Rs

249.00
Bhimseni Camphor popularly known as Pacha Karpuram is used in Ayurveda since ancient times. Naturally formed in the stems of Dryobalanops camphora, grown in Dutch Sumatra.
Karpure Bhimseni Karpur made of 100% pure camphor is suited for usage during Pujas and festivals. Burning/Diffusing this camphor, emits a fragrance that evokes a sense of calm, refreshing the mind and repelling mosquitoes. Bhimseni Karpur evaporates completely leaving no residue or ash when completely diffused.

Use AirKarpure Bhimseni Karpur with our Camphor Vapouriser/kapur dani and/or with your daily puja.

Caution: For use with Vapouriser and Puja. Non-edible. Store in a cool and dry place in airtight condition away from heat, light and inflammable materials. Avoid contact with eyes, if contact with eyes occur rinse with water and consult a doctor if symptoms persist. Keep out of reach of children.
Brand: Karpure
Product Code:

AKBC

Variant Code:

ABC270

Availability:

1462
Tags:ABC140, ABC270, karpur, camphor, bhimseni, pure kapur, pure camphor
People who bought this item also bought