Videos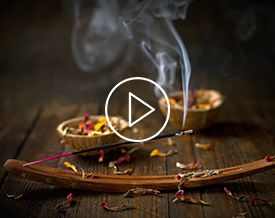 It is true to say that whatever we see will last in our memories. Videos are the best way to remember easily whatever we see. Cycle.in brings videos related to Hindu festivals and occasions and how to perform different Poojas. You can watch all the Pooja videos and Hindu festival videos here.

Rohini vrat is performed when Rohini Nakshatra prevails after Udayatithi. This fast is especially observed by Jain community....
King Kansa killed all the children born to his sister Devaki in order to protect himself. This is when Lord Krishna, an avatar of Lord Vishnu took birth only and only to put an end to Kansa's cruelty....
Kalashtami or Kala Ashtami is a Hindu festival dedicated to Lord Kalbhairav and is observed every Hindu lunar month on the Krishna Paksha Ashtami Tithi...
All happiness, relationships are prayers are ageless so is the precious connection between a brother and a sister. Wishing every brother and sister a memorable and joyous journey ahead....
On the auspicious occasion of Pradosh Vrat, devotees must worship Lord Shiva. According to the Hindu lunar calendar, the Pradosha fast is kept on the 13th day of the lunar month (Trayodashi)....