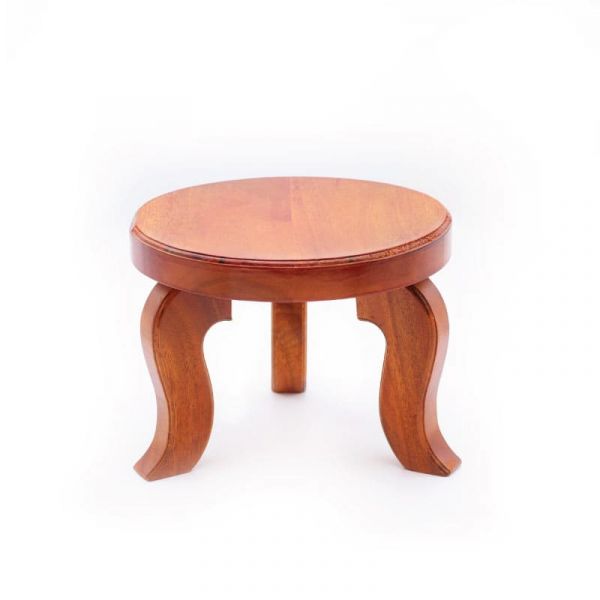 General
Type
Wooden Handcrafted
Manufacturer Name & Address: N. Ranga Rao & Sons Pvt. Ltd, #1553, Vanivilasa Road, Mysuru - 570 004, Karnataka, India.
Country of Origin: India
Hard Jungle Wood Three Legged Mukkali Stool
MRP (Inclusive of all Taxes):

Rs

1,800.00
Ex Tax:

Rs

1,800.00
Wallet Offer : Up to ₹150 cashback on Mobikwik Wallet. Min Order Value ₹399.
USECODE : MBK150 T&C
Free Shipping on Orders Above

Rs

249.00
This hard jungle wood stand (mukkali stool / mukkali wooden stand / mukkali manai) with three legs is for performing Pooja at home, temple, or such sacred places. It can also be used to place a Tulasi planter or as a corner stand to keep your favorite indoor plant. The three sturdy legs are snugly fit into the plate with wooden nails and have the perfect balance to hold heavy objects on them.
Place your abhisheka plate on the mini stool and perform Pooja rituals without any hassles. The legs are at perfect angles to avoid any wobbling or imbalance.
Vigrahas, Saligramas, or Naivedya for your deity can be placed on this Pooja chowki. It can also be used to place large Kalasha and such sacred things.
The stand can be used to place diety during Pooja or to place urli with water and floral decorations.
Hard Jungle Wood Three Legged Mukkali Stool can be used to seat bride and bridegroom in traditional weddings (like in traditional Coorg Weddings) as it is sturdy, wide, and aptly designed to suit the need to sit for long hours.
The wood is durable and sturdy for long usage. It can be used as a perfect piece of ethnic furniture and also fits into a contemporary home.
Dimension:
• Plate diameter – 12"/30.48cm
• Plate thickness – 1.75"/4.44cm
• Height - from floor to plate – 7"/17.78cm
• Total height – 8.75"/22.22cm
Tags:MKLI-BGWD
People who bought this item also bought