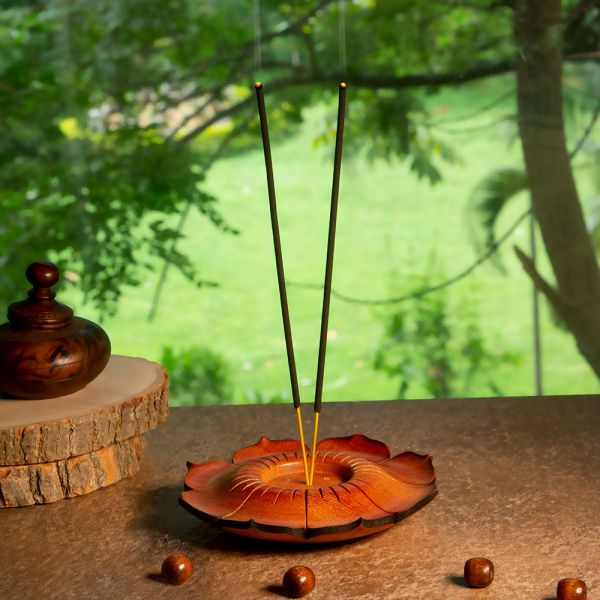 General
Size
6cm dia
No of Items
1 no lotus shaped tea light holder and incense ash catcher
Type
Wooden Handcrafted
Manufacturer Name & Address: N. Ranga Rao & Sons Pvt. Ltd, #1553, Vanivilasa Road, Mysuru - 570 004, Karnataka, India.
Country of Origin: India
Lotus Tealight Holder and Incense Ash Catcher
MRP (Inclusive of all Taxes):

Rs

300.00
Ex Tax:

Rs

300.00
Wallet Offer : Up to ₹150 cashback on Mobikwik Wallet. Min Order Value ₹399.
USECODE : MBK150 T&C
Free Shipping on Orders Above

Rs

249.00
Many cultures and faiths consider lotus as a symbol of purity and tranquil beauty. It also symbolizes wealth, knowledge, spirituality and enlightenment. Lotus often called the Padma is more than that. It grows from mud but remains fresh and vibrant. It teaches us to remain detached from our surroundings and uphold our true virtues. To rise high and elegant above every distraction and illuminate the world.
Let the floating Lotus Shaped decorative tealight holder and incense ash catcher make your celebrations divine and bright.
Handcrafted decorative lotus shaped incense stick and tealight holder from Soulveda Kraftz is made by the traditional craftsmen of India using sustainably harvested wood and is coated with eco-friendly polish.
Tags:LTAC007, ash catcher, floating tealight holder, incense holder, tea light holder, t-light holder
People who bought this item also bought