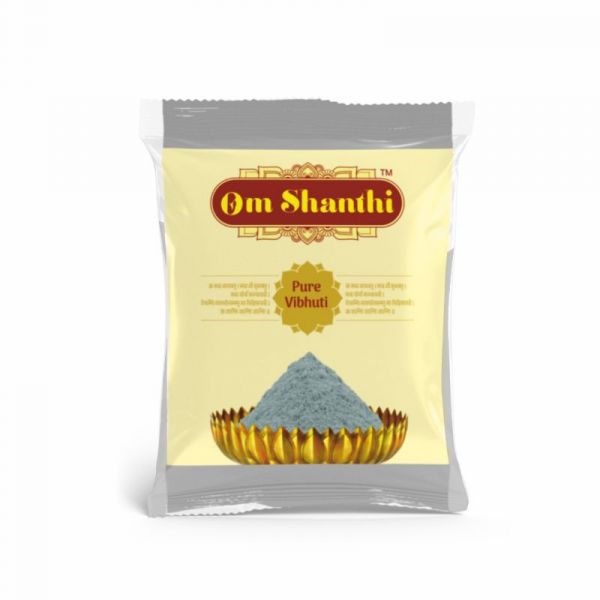 General
Packing Type
Plastic Pouch
Manufacturer Name & Address: N. Ranga Rao & Sons Pvt. Ltd, #1553, Vanivilasa Road, Mysuru - 570 004, Karnataka, India.
Country of Origin: India
Om Shanthi Pure Vibhuti
MRP (Inclusive of all Taxes):

Rs

10.00
Ex Tax:

Rs

10.00
Available Options
Wallet Offer : Up to ₹150 cashback on Mobikwik Wallet. Min Order Value ₹399.
USECODE : MBK150 T&C
Free Shipping on Orders Above

Rs

249.00
Lord Shiva adores the Vibhuti - the purest thing. It is applied in the form of a dot on the forehead to activate the Ajna Chakra or in the form of three horizontal lines across the forehead. Some also apply it on the throat and on the Solar Plexus (on the chest).
A dot of kumkum on the vibhuti reminds us of the fact that Shiva and Shakthi constitute the universe. It is believed that of the three horizontal lines applied on the forehead, the first line is meant to remove pride (Ahankar), the line in the centre is to eliminate ignorance and the third purges bad Karma (Actions).
Experience the divine and healing powers of Om Shanthi Pure Vibhuti made by ritually burning chosen ingredients at the chosen time as prescribed by the shastras.
Brand: Om Shanthi
Product Code:

OSVIBHUTI

Variant Code:

OVPS

Availability:

226
Tags:vibhuti, vibuti, vibhuthi, OVPS, OVPB, om shanti
People who bought this item also bought