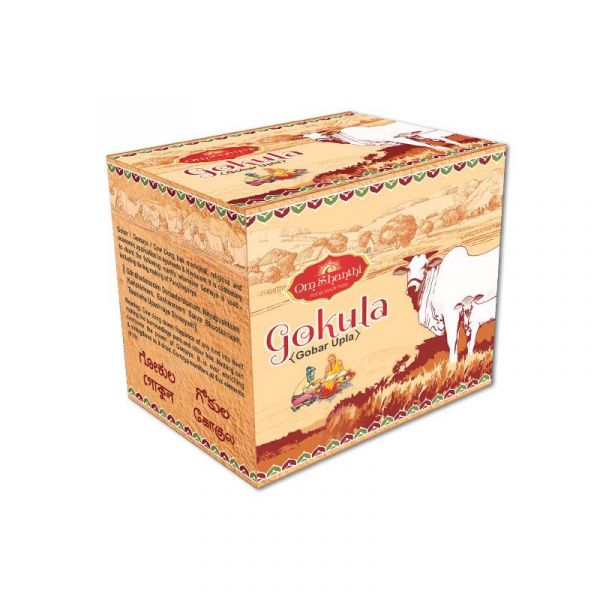 General
Pack Contents
8 Nos
Packing Type
Packet
Manufacturer Name & Address: N. Ranga Rao & Sons Pvt. Ltd, #1553, Vanivilasa Road, Mysuru - 570 004, Karnataka, India.
Country of Origin: India
Gokula Gobar Upla
MRP (Inclusive of all Taxes):

Rs

100.00
Ex Tax:

Rs

100.00
Wallet Offer : Up to ₹150 cashback on Mobikwik Wallet. Min Order Value ₹499.
USECODE : MBK500 T&C
Wallet Offer : Up to ₹75 cashback on Mobikwik Wallet. Min Order Value ₹249.
USECODE: MBK250 T&C
Free Shipping on Orders Above

Rs

249.00
Hand made gobar upla dry cakes.
Gobar / Gomaya / Cow Dung has medicinal, religious and economic application in Ayurveda and Hindu puja/havans. It is customary to chant the following mantra whenever Gomaya is used - including during making of Panchagavya.
"Gandhadwaaram Duraadarshanam, Nityapushtaam Karishineem,
Eashwareem Sarva Bhootaanaam,
Twameha Upashraye Shreeyam"
meaning; Cow dung draws fragrance of any kind into itself making the surroundings pure and odour free. Nothing can overcome the power of Gomaya. It is ever enriching & strengthens as it dries. Gomaya monitors all five elements of life.

Brand: Om Shanthi
Product Code:

GULH

Availability:

284
Tags:OSU001
People who bought this item also bought