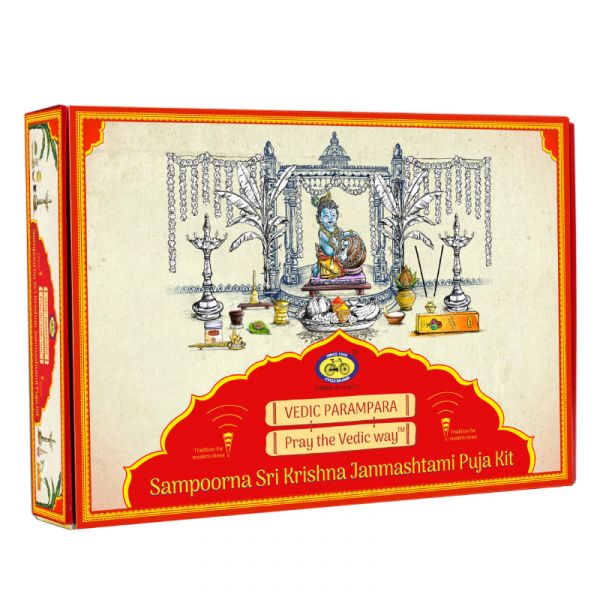 General
Pack Contents
Haridra 10g, Kumkum 10g, Akshatha 10g, Chandan Tablets 2N, Karpoora 5N, Vastra 1N, Karpoora Arti Holder 1N, Cup Sambrani Holder 1N, Cup Sambrani 1N, Agarbathi Holder 1N, Cycle Pure Agarbathies 5N, Peeta for Puja Bell 1N, Puja Bell 1N, Diya 2N, Peeta for Lord Balakrishna 1N, Lord Balakrishna Idol 1N, Panchapatra and Uddharini 1N, Kalasha 1N, Arghyapatra 1N, Pugi Phala 2N, Plate for Balakrishna 1N, Yagnopaveetha / Kankana 1N, Abharana 1N, Puja Vastra 1N
Packing Type
Rectangular Pack
Unpack the box and arrange the items. Perform the pooja as per the instructions medium enclosed.
Caution
All flammable materials contained within this pack need to be burnt with care in well ventilated places. Use proper holders meant for each inflammable material. Place holders only on fireproof and heat-resistant surfaces, away from other inflammable materials.
Keep out of reach of children and pets.
Contents are not edible.
Manufacturer Name & Address: N. Ranga Rao & Sons Pvt. Ltd, #1553, Vanivilasa Road, Mysuru - 570 004, Karnataka, India.
Country of Origin: India
Sampoorna Shri Krishna Janmashtami Puja Kit