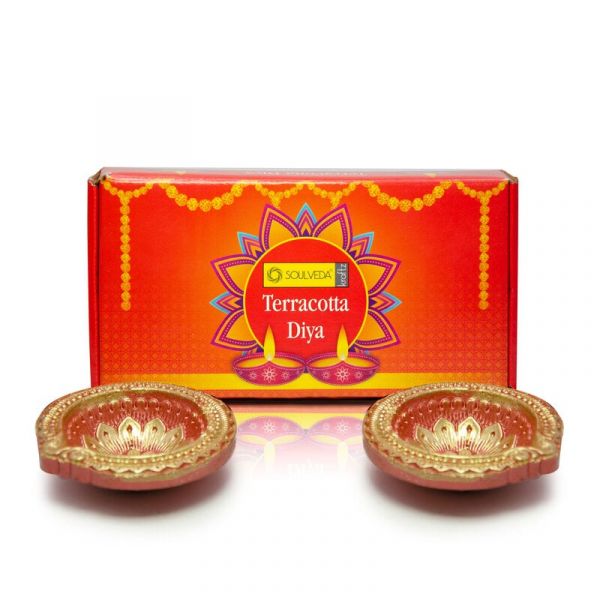 General
Net Quantity
2 Pcs
Type
Hand-Painted Terracotta Clay Diya
Manufacturer Name & Address: N. Ranga Rao & Sons Pvt. Ltd, #1553, Vanivilasa Road, Mysuru - 570 004, Karnataka, India.
Country of Origin: India
Hand Painted Earthen Terracotta Clay Diyas
MRP (Inclusive of all Taxes):

Rs

85.00
Ex Tax:

Rs

85.00
Available Options
Free Shipping on Orders Above

Rs

249.00
The flickering soft and soothing glow of the flame of a diya exudes enigma and tranquility. Illuminating the physical surrounding along with mind, soul and spirit the diya dispels darkness and gloom by welcoming happiness, prosperity and optimism. Invite prosperity by lighting hand painted earthen terracotta clay diyas from SoulvedaKraftz.
Terracotta Diyas from SoulvedaKraftz are made by skilled artisans through traditional methods that make the diya durable. Make your celebrations more auspicious with these Diyas made of clay and hand-painted with chosen eco-friendly, colours.
Directions for use:
Use as the diya with oil and wick or with Om Shanthi Ghee Diya.
Place tea light in the lamp and use it on a Rangoli to brighten it up.
Brand: Soulveda Kraftz
Product Code:

TCDIYA

Variant Code:

TDGR-01

Availability:

118
Tags:diya,
People who bought this item also bought