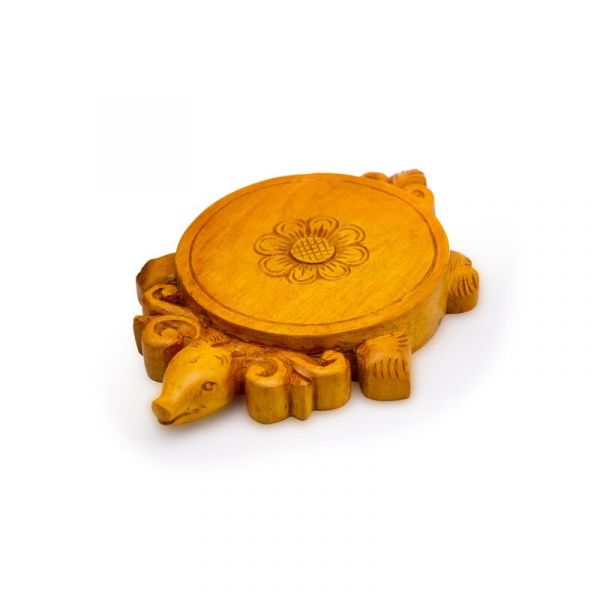 Manufacturer Name & Address: N. Ranga Rao & Sons Pvt. Ltd, #1553, Vanivilasa Road, Mysuru - 570 004, Karnataka, India.
Country of Origin: India
Handmade Jackfruit wood Koorma Asana/Koorma Peeta
MRP (Inclusive of all Taxes):

Rs

1,900.00
Ex Tax:

Rs

1,900.00
Wallet Offer : Up to ₹150 cashback on Mobikwik Wallet. Min Order Value ₹399.
USECODE : MBK150 T&C
Free Shipping on Orders Above

Rs

249.00
Lord Vishnu took his second incarnation as Koorma in Satya Yuga to help Devas and Asuras during Samudra Manthana. The Maha Mandhara Parvata had to be used to churn out Amritha- the nectar of immortality from the ocean. It was difficult to hold Mandhara Mountain in place while churning and this called for a solid base. Lord Vishnu incarnated as a giant turtle and lent his back to hold up the mountain and save Earth from destruction. It is said that Lord Vishnu himself narrated the Kurma Purana to Sage Narada and hence is one of the major Eighteen Puranas. We also learn about this avatar of Mahavishnu from the Bhagavad Purana, the Agni Purana and the Ramayana.
Tortoise is known for stability and has a very strong back. Place the Koorma Peeta by Soulveda Kraftz made of auspicious jackfruit wood in your pooja room to make your Pooja space even more special.
This Peeta can be used to place Mahameru Yantra and perform pooja or to place blessed spiritual idols, Mahameru Yantra, MahaLakshmi Idol, idol of Thirunamam with Shankha, Chakra, Shivalinga etc.
The stains and mark on the peeta are the natural grains and textures of wood and is unique to each peetam.
Cleaning Instructions:

The peeta can be cleaned using a soft damp cloth. Avoid scrubbing it as the smooth surface might get uneven. Can be washed under running water if necessary.
Dimension:

Length: 9.25 inch / 23.49cms
Width: 6.5 inch / 16.51cms
Height : 1.26 inch / 3.20cms
Weight : 450 grams
Material: Wood
Wood Type: Jackfruit Wood
Soulveda Kraftz Handcrafted 100% Jackfruit Wood Koorma Peeta from Cycle Agarbatti makes a great gifting option for housewarming ceremony, weddings, anniversaries.

Tags:JWKP1900, Koorma Asana, Koorma Peeta, kurma asana, kurma peeta,
People who bought this item also bought