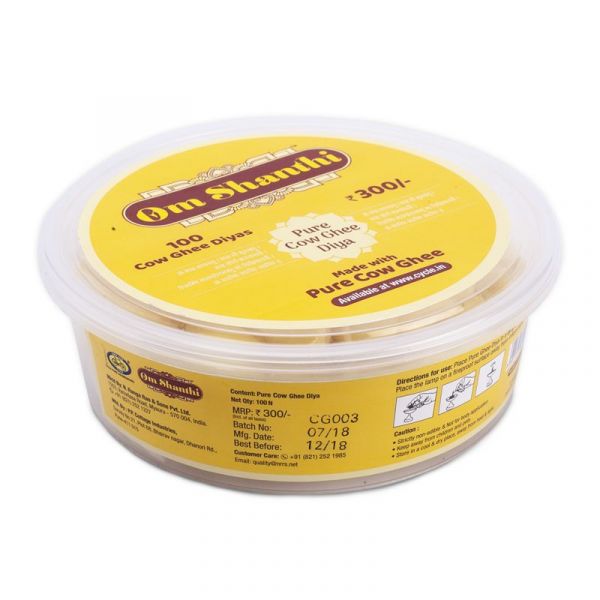 General
Packing Type
Plastic Container
Manufacturer Name & Address: N. Ranga Rao & Sons Pvt. Ltd, #1553, Vanivilasa Road, Mysuru - 570 004, Karnataka, India.
Country of Origin: India
Pure Cow Ghee Diya
MRP (Inclusive of all Taxes):

Rs

110.00
Ex Tax:

Rs

110.00
Available Options
Wallet Offer : Up to ₹150 cashback on Mobikwik Wallet. Min Order Value ₹399.
USECODE : MBK150 T&C
Free Shipping on Orders Above

Rs

249.00
Lighting Diya before beginning any activity invites positivity into the ambience. Diyas are a way of increasing the purity and spirituality of our home and mind. While lamps are lit using oil and ghee, our tradition prefers ghee diya, especially cow ghee lamp over oil during special occasions.
According to the Agni Purana, lighting Cow Ghee Deepam is supposed to increase the sattvic tattva which includes light, bliss and goodness. Sattvic mind is always steady and is blissful internally. It is a practice to light Cow's Ghee Diya for health, wealth and happiness.
Om Shanthi Pure Cow Ghee Diya made from Cow ghee are convenient and apt replacement for traditional ghee lamps. These Pure Cow Ghee battis have a burning time of 20-30 minutes. Place these Diya Bhattis in a lamp and light them.
Brand: Om Shanthi
Product Code:

OSCOWGDIYA

Variant Code:

ODCH

Availability:

1155
Tags:ODCT, ODCH, ghee diya, ghee batti, Cow ghee bati
People who bought this item also bought