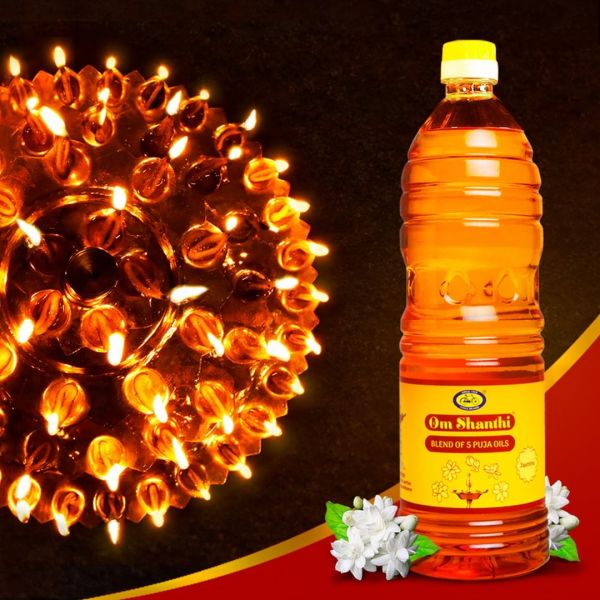 General
Net Quantity
200ml, 500ml, 1 Litre
Packing Type
Plastic Bottle
Fragrances
Parijata
Manufacturer Name & Address: N. Ranga Rao & Sons Pvt. Ltd, #1553, Vanivilasa Road, Mysuru - 570 004, Karnataka, India.
Country of Origin: India
Om Shanthi Parijata Pure Puja Oil
MRP (Inclusive of all Taxes):

Rs

115.00
Ex Tax:

Rs

115.00
Available Options
Free Shipping on Orders Above

Rs

249.00
Lighted Diya induces positive visual ambience and alerts our subconscious mind. This sharpens our receptive skills. Memories made at such moments are better retained. Diya is lighted at the beginning of every activity to make it auspicious and help us remember and cherish the moment.
Starting the day with lighting of an oil lamp enhances positivity.

Om Shanthi Pure Puja Oil the blend of five puja oils, coconut, Rice Bran, Sesame (Til), Castor and Mahua are sourced in their purest form and blended with Parijata fragrance for cherished memories to last longer.
Brand: Om Shanthi
Product Code:

OSPPUJAOIL

Variant Code:

OMPJC-1050OLCN00

Availability:

211
Tags:OPFB125, OPTB245, OPFL1199 puja oil, Til oil, deepam oil, deepak oil, om shanti
People who bought this item also bought