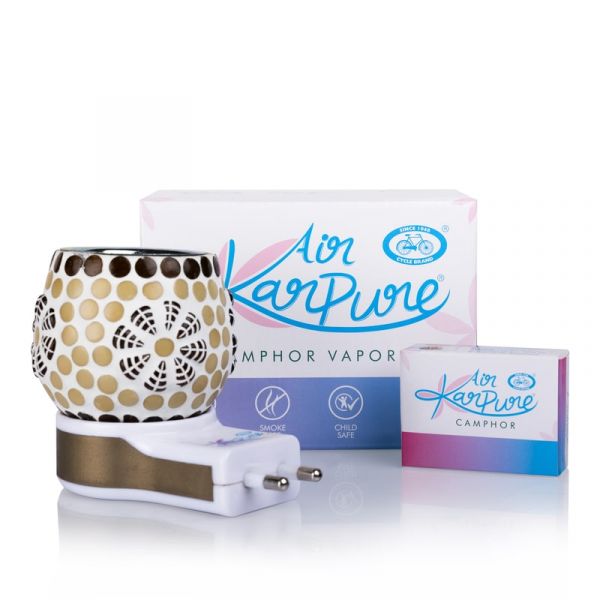 General
Pack Contents
1 no Camphor Vapouriser + 10 Camphor Tablets
Manufacturer Name & Address: N. Ranga Rao & Sons Pvt. Ltd, #1553, Vanivilasa Road, Mysuru - 570 004, Karnataka, India.
Country of Origin: India
Karpure Camphor Vaporizer Premium
MRP (Inclusive of all Taxes):

Rs

499.00
Ex Tax:

Rs

499.00
Wallet Offer : Up to ₹150 cashback on Mobikwik Wallet. Min Order Value ₹399.
USECODE : MBK150 T&C
Free Shipping on Orders Above

Rs

249.00
Karpure Camphor Vaporizer is a device that burns camphor instantly and releases the fragrance into the air, creating a fragrant atmosphere without the use of a flame. This device is not only reliable in terms of temperature stability, but it is also long-lasting. It is appropriate for use in the home, office, and compact places. It is easy to use, easy to clean, composed of high quality materials, and safe to use because of its unique design.
Camphor is naturally present in the plant Cinnomomum camphora, which is widely grown in Himalayas and other high altitude cold places. The camphor used in all our products are made up of pure quality which is free from adulterants such as hexamine and other toxic elements. Camphor is known for its therapeutic properties such as relieving from Inflammation, pain, cold etc and also known for its insecticidal, antimicrobial, antiviral properties.
Direction for Use –

Connect the Air Karpure Camphor vaporiser to the electrical socket.
Place 2-6 pallet of Camphor (about 1.5 g to 5g) on the heating mat.
Switch on the Air Karpure Camphor Vapouriser for Smoke free vapors.
Keep the device switched off when not in use. Use Om Shanthi Karpooram for Pure camphor vapors.

Input Voltage(V): 248V AC

Caution: Keep out of reach of children & pets. Store in a cool dry place. Do not touch the device while it is on, device may get hot to touch after use. To be used with camphor only.
Brand: Karpure
Product Code:

AKD499

Availability:

173
Tags:Air Karpure Camphor Vaporizer premium mosquito repellent, AKD499
People who bought this item also bought