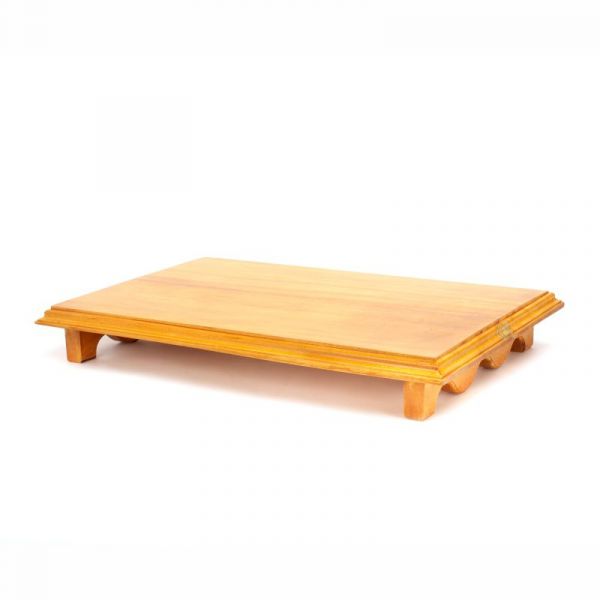 General
Net Quantity
1 no
Size
Small Mane: 15.24 x 10.16 cms, Regular and Premium Mane: 30.48 x 45.72 cms
Type
Wooden Handcrafted (Jackfruit Wood)
Manufacturer Name & Address: N. Ranga Rao & Sons Pvt. Ltd, #1553, Vanivilasa Road, Mysuru - 570 004, Karnataka, India.
Country of Origin: India
Puja Asana (Pooja Chowki / Mane / Peeta)
MRP (Inclusive of all Taxes):

Rs

500.00
Ex Tax:

Rs

500.00
Available Options
Free Shipping on Orders Above

Rs

249.00
Mane is essential for any household. They are an integral part of every pooja, yaga, yagna, homa and other religious rituals as well as to assist you in your day to day activities.
Also called as Manai / Palagai / Pooja Chowki / Asana / Seating Plank, they can be used to place idols for pooja.
Multipurpose Mane from Soulveda Kraftz is made of Jackfruit wood to make it more auspicious and a must-have for your Pooja rooms. Hence it is rightly called the Madi Mane as it is a must-have during Pooja, upanayanam ceremony, marriage rituals and other religious rituals. They are also apt for Dhyana or meditation. This is the most preferred by priests and purohits since Puja Asana made out of Jackfruit wood is considered very auspicious.
It is also aptly designed to sit on and dine during religious occasions.

Colour, design and grains might vary slightly as this is a handmade product. The knots and marks occurring on natural wood add to its beauty. To ensure they do not disturb the sturdiness we have used eco-friendly wood fillers.
Product Dimensions:
Premium (1 piece plank) Mane: 12x18 inches (30.48 x 45.72 cms)
Regular Mane: 12x18 inches (30.48 x 45.72 cms)
Small Mane: 6x4 inches (15.24 x 10.16 cms)
Tags:WJM-1200, Pooja Sitting Plank, Mana palagai, Wooden Seat, pooja chowki, madi mane, pooja peeth
People who bought this item also bought